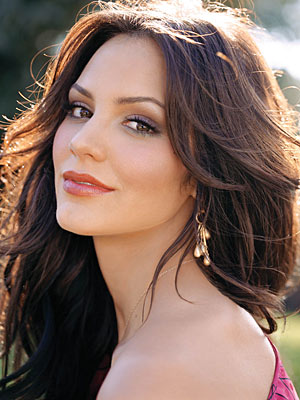 I'm a big fan of
Katherine McPhee
although I must admit that her only song that I used to listen to was
'Over It'
. Hehe!
I know right, how come I declare myself as a big fan dengar satu lagu jeee? I've been changing my hp for so many times in the past few years but lagu 'Over It' wajib ado dalam hp playlist. Kadang-kadang buat ringtone sebab the music is so feminist at the beginning tu
I'll occasionally sing it out loud whenever I'm driving from work. Well of course with all the windows rolled up in order to not cause any air pollution & public nuisance *coughs*

But can you imagine me singing that song? Fefeeling Katherine kejap *flips tudung* And she's also so pretty! I mean, just look at her photo!

Ok, let's sing along!
Anyway,
'Terrified'
(Katherine McPhee ft Zachary Levi) is my latest obsession. What took me so long to download this song, I wonder. Now, I have a new song to sing to. Yayyy! My car, Alex must be so
happy
P/s:
Well, in order to make up the thing that happened yesterday & last night, I dedicate 'Terrified' to youuuuu, A.H!
♥
Let's pretend that my voice sounds like Katherine McPhee walaupun memang jauh panggang dari api. Bahahaha! #iamsorryforwhathappenedlastnight #ily #iamterrifiedsometimes #biasalahperempuan #annoyinggf #annoyinghashtag #muahehe